September 5th, 2008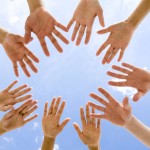 One of the most important lessons that I have learned over the years, is that when you've got a goal and you don't know how to go about trying to achieve that goal, or during your pursuit of that goal you reach a plateau or get stuck and just feel like giving-up… "It's too hard… it's too much of a commitment… I'll never lose weight…." You find someone who has been where you are, someone who understands what you're going through, someone who can empathize with your struggle.
Empathy: the capacity to share another being's emotions, feelings and experiences.
A technique I often use to motivate my client's when they're having a hard time, are ready to give-up or feel like it's just impossible, is to tell them about an article I've read, or a news story that I've seen, or share with them a story about someone who I know who has struggled as they have but has pushed through and overcome any and all obstacles in order to reach their goals.
Many times, these stories of success have helped my clients refocus on what their goals are, and why they are important to them. And knowing that there are others who have succeeded against all odds, who have been able to accomplish many of the same things and have reached many of the same goals that they are trying to accomplish, has been an amazing motivator.
And so, my plan is to periodically post a story about someone who has "done it," someone who will provide inspiration and motivation to us all, and at the same time celebrate their success and our recommitment to ours.
Tell me your Success Story.
Categories: Success Stories