March 22nd, 2010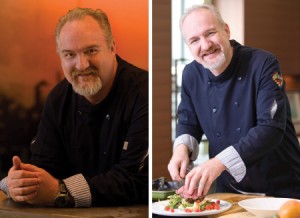 Most People want to get something for their birthdays. Not Art Smith, the restaurateur behind Capitol Hill's Art and Soul. For his big 5-0, he wanted to lose something: an even bigger 1-0-0! And as he celebrated Monday, he was 90 pounds toward his goal, with plans to knock off the final 10 in the next few weeks.
"Honey, when you're as overweight as I was — and there was a lot of me to love at 325 pounds — it's scary," he says. But it wasn't scary enough for the king of comfort food to do anything about it even after he'd developed diabetes. His feet hurt. His vision blurred. Then, one night last summer he rushed to the hospital convinced he was experiencing cardiac arrest. It was a false alarm, but Smith never wanted to go through that again.
It's not as though Smith was clueless about healthy living. He served as Oprah Winfrey's personal chef for a decade. He's prepared meals for the famously calorie-conscious Obama family, and he even developed the recipes featured in the book "The Spectrum," by wellness expert Dean Ornish. But that didn't mean it was simple to change a half-century of habits.
Smith started by developing a morning routine. He fuels up with oatmeal, berries and water, and works out for an hour. "I feel much more alive," he says. As he picks what to put on his plate the rest of the day, Smith goes by a motto: "I've eaten a lot of delicious food in my life, more than most people. Now it's time to let other people eat it."
He hasn't rejected his signature Southern cuisine. "But those things were created for people who worked hard on farms. Those foods are treats," he says. Smith still allows himself some indulgences — when he's in Washington, which means pizza at 2 Amys — but just one day a week. "When I was hungry, I used to grab a carbohydrate. Now I grab fruit," he says. Beyond the weight loss, reducing the amount of sugar in his diet has led to another benefit befitting a chef. "Food tastes better now," he gushes. Slimming down has been easier than Smith ever imagined, and he knows why. "For success in weight loss, not only do you need yourself, you need other people," he says. His support network has extended from family and friends to trainers to a stranger who gave him an iPod loaded with music. His secret weapon: Lady Gaga. When she appeared on "Oprah" recently, Smith arranged to prepare her food. "I told her I lost all this weight listening to her music," he says. She expressed admiration for his fried chicken. "We're in love," he adds.
Back when Smith started on his health kick, it was for himself. But now, it's also about others. He's inspired his employees to hit the gym, and he hopes his example will make him a better role model to the children he mentors. It's his way of making up for the fact that he was too late to help one person. A month ago, Smith's father died from a heart attack. He, too, had diabetes. "I regret that I could have saved him," Smith says.
All Smith can do now is try not to be him. So, although he's reversed his diabetes, he continues to check his blood sugar every day as a reminder. "I've learned that this is a battle," he says. "You have to watch yourself."
» Inside Dish: "Just because I'm on a diet doesn't mean everybody is," Smith says, so don't expect his menu to ditch the hoecakes. But he's added steel-cut oats and an egg white frittata to his breakfast offerings.
Photos Courtesy of Art and Soul
Originally posted By Vicky Hallett / Express Night Out
Download your FREE copy of my eBook: The 5 Tenets of Permanent Weight Loss
Categories: Diet & Nutrition, Exercise, Fitness, Health & Wellness, Lifestyle Change, Motivation, Recipes, Success Stories, Weight Loss