January 12th, 2011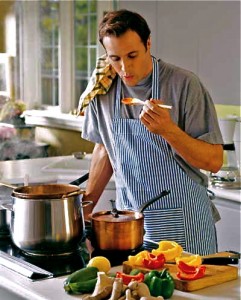 As we recently discovered from the Consumer Reports Diet Survey, many of us over estimate how healthful our diets and eating habits really are, we under estimate how much we weigh, we're busier than we've ever been and yet not nearly active enough. And only about 50% of us limit the amounts of fat and sugar we eat on a daily basis – in the face of overwhelming evidence that eating too much unhealthy fat and consuming foods and beverages loaded with sugar are major contributors to certain diseases and weight gain.
Most of us are not doctors, dietitians or nutritionists… But we still know that we should be eating more fruits and vegetables, replacing high-fat foods with low-fat or fat-free, consuming less sugar and getting more exercise.
The truth of it is, is that it can be overwhelming to constantly be reading food labels, asking about ingredients at your local restaurants or trying to add-up the total number of calories in the food that you intend to eat, or try to figure out how much exercise you must do in order to burn-off the calories you've had throughout your day. And that's why it's no surprise that most of us don't even try!
But… Do not despair.
One of the most effective, easy to implement and cost effective ways that you can take charge of the amount of fat, sugar and the number of calories you eat…
Is to cook your own food.
Mark Bittman, food columnist for The New York Times has written a wonderful piece about the importance of cooking your own food (including recipes), and how by cooking your own food you not only improve your diet and eating habits, but by cooking your own food you might even be helping the environment.
"Revolutionary" diet books flood the market this time of year, promising a life changed permanently and for the better — yes, in just 10 to 30 days! — but, as everyone knows, the key to eating better begins with a diet of real food.

The problem is, real food is cooked by real people — you! — and real people are cooking less than ever before.We know why people don't cook, or at least we think we do: they're busy; they find "convenience" and restaurant foods more accessible than foods they cook themselves; they (incorrectly) believe that ready-to-eat foods are less expensive than those they cook themselves; they live in so-called food deserts and lack access to real food; and they were never taught to cook by their parents, making the trend self-perpetuating.
Love to Cook? If you do, share some of your favorite healthy recipes with Motivated And Fit and I'll share them with my readers.
Related post: To Cook is to Eat Well
Related Article: 10 New Diet Books for 2011
Download your FREE copy of my eBook: The 5 Tenets of Permanent Weight Loss and get started on a new you for the New Year!
Categories: Diet & Nutrition, Health & Wellness, Lifestyle Change, Weight Loss