January 5th, 2011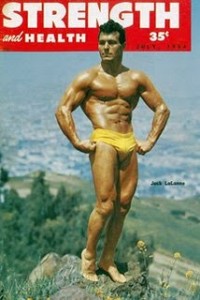 Jack LaLanne is considered by many in the fitness industry to be the "Godfather" of the fitness movement.
In 1936, Jack LaLanne opened the first modern health spa in the U.S. He's also credited with inventing many of the weight machines that are now standard in many of today's modern gyms and health spa's, such as the leg extension machine and the Smith machine. In the early nineteen fifty's, with his Jack LaLanne TV show he was able to reach millions of American households, extolling the virtues of exercise and living a healthy lifestyle, he encouraged men, as well as women, the disabled and the elderly to work out with weights. He was also one of the first to recognize that paying attention to diet and nutrition was just as important as exercise in terms of a person's overall health and wellbeing.
Even today, at the age of 96, Jack LaLanne still works out every morning for two hours, and leading by example, tirelessly promotes the benefits of exercise and living a healthy lifestyle.
Long-live Jack LaLanne!
Take Jack's advice and get started on a "new" you in 2011.
Jack LaLanne | 'How To Live Forever' from Mark S. Wexler on Vimeo.
Download your FREE copy of my eBook: The 5 Tenets of Permanent Weight Loss and get started on a new you for the New Year!
Categories: Diet & Nutrition, Exercise, Fitness, Health & Wellness, Lifestyle Change, Motivation, My Favorite Posts, Uncategorized, Weight Loss