November 5th, 2010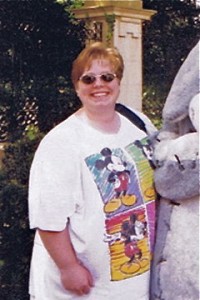 Lori Kimble, age 42, has lost over a hundred pounds eating real food.
Read Lori's weight loss success story; learn how she did it and how you can too!
My Weight Loss Approach: I have done a lot of weight loss programs in the past, including Weight Watchers, Nutrisystem and so on. While all had their good and bad points, I needed to find something that worked for me. I took a little bit out of each program and made a way of eating that keeps me happy and healthy.
I did calorie counting to help me lose most of the weight, and it actually turned out that I was not eating enough food and hit a horrible plateau. I have learned along the way that it is okay to eat more food, and you can still lose weight. It took me several years to lose 100 pounds and while I would have preferred to lose faster, maybe the slower weight loss has allowed me to keep it off more easily.
I strive to eat good balanced meals and snacks, with whole grains, proteins, healthy fats and lots of fruits. I was never a big veggie eater, but in the last couple of years I have been trying to increase my vegetable horizon, so to speak, by trying new ones. I give myself permission to not like something, and that is okay. I was, however, very surprised at finding some new veggies that I actually liked such as Brussels sprouts! Who knew?
I firmly believe that no food is off limits. I don't go overboard, but I really try to make that something extra I eat be worth it, like a cupcake from a bakery rather than 100-calorie snack packs or something like that. It just has to be real food — it's just much more satisfying. I would rather have the real thing in a small amount than three times as much food trying to satisfy a craving with something else.
I also do exercise that I enjoy. I love strength training and biking, and I also do some running. These are the types that make me happy, which is so key. If you don't like a type of exercise, you aren't going to do it. Exercise is key. After losing over 100 pounds, strength training has really helped reshape my body, especially in the last year, even though not much weight has changed.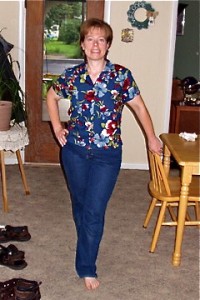 Why I wanted to blog about it: I originally started Finding Radiance just for myself a few years ago. I was somewhat sporadic about posting. Then I decided to use it for my food diary, so to speak. It has pretty much evolved into my daily eats and exercises and how I am maintaining the 100-plus pounds loss. I blog a lot more now since I've got a lot more readers. There really are very few blogs out there that are dedicated to maintenance of weight loss. There are a lot of people blogging that are in the process, but I think it is important to show what it is like to maintain a loss and how to deal with that every day. I have kept off at least 100 pounds for over two years now, and it gets a little easier every day, probably in large part because of the blogging.
The best part of blogging is: The best part has to be all of the wonderful people that I have met online that I never would have had the pleasure of meeting in 'real' life as they are scattered all over the country, and even different parts of the world! I think online friendships have really helped me stay focused and on track.
Best comment I've received: Gee, I'm not sure about the best comment, but I can't tell you how much it means when someone e-mails and says they are struggling and that my blog has shown that it is possible to lose a lot of weight and keep it off and not have to eat only carrot sticks and cottage cheese. Knowing that I might have helped someone just a little bit makes the time spent on the blog really worthwhile.
What's next for my blog: I hope to organize my blog a little more, and maybe get a new logo or something. I do a strength-training move of the week and would love to do more informational posts and more recipe posting. I hope to get more women interested in strength training! If only the day were 30 hours long (or I didn't have to sleep!).
Download your FREE copy of my eBook: The 5 Tenets of Permanent Weight Loss
Categories: Diet & Nutrition, Exercise, Fitness, Health & Wellness, Lifestyle Change, Motivation, Success Stories, Weight Loss