September 28th, 2009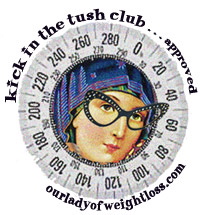 Janice Taylor, Life & Wellness Coach and author of the best seller Our Lady of Weight Loss, has written a piece for Intent.com titled, 28 days: 28 diet tips to living a fully baked life!
I don't know if these tips will fully bake your life but you've got to start somewhere…
Here are my favorites:
Stay Conscious: I can't say enough about practicing mindfulness when eating. Seriously, what is the point of eating if you're not even tasting it? One bite at a time! Roll it around on your tongue, and chew it masterfully. Engage all your sense in the true pleasure of nourishing your body.
Eat Until Sated: You know, until you are 'not hungry,' vs. 'full' or 'past full.'
Making the Best Choice in the Moment: Let's face it. Life is unpredictable and we're not100% perfect 100% of the time … and who wants to be??? Not me. Sometimes we just have to make the best choice in the moment.
Keeping a Food Journal: Statistics show that those who keep food journals are way more successful at weighing less! If writing it down is a chore, make it fun. Be a foto-food journalist. Instructions in the fabulous book (Oprah approved!): Our Lady of Weight Loss!
Do NOT Skip Breakfast: Breakfast kick starts your metabolism. If you think that skipping breakfast means that you are eliminating 300 or even 400 calories from your day, think again! Studies show that those who skip breakfast more than make up for it later in the day.
Fruit and Veggies Rule: They are 'real food' (as in not processed or filled with white sugar or white flour … duh!), they are loaded with fiber; they are ohhhh so satisfying. Add two servings to every meal and consider them for your snacks. The dietary guidelines say 5 to 9.
Give Up the Soda and Other Sugary Drinks: How many studies do you have to read before you realize the full impact of sugary drinks? You are adding a ridiculous amount of empty calories to your day!
There Is No End in Site: Seriously, there is no end. Well, not until the living end. We are a work in progress, always. There is no getting there.
Categories: Diet & Nutrition, Health & Wellness, Lifestyle Change, Weight Loss