October 12th, 2009
Are you like Dr. David Kessler, Author of The End of Overeating and former commissioner of the Food and Drug Administration (1990-1997) and you can't stay away from a Mc Donald's Quarter Pounder?
Does fast food make you happy?
Are French Fries your favorite vegetable?
But, you also know that too much fast food may be detrimental to your health, weight and well-being?
Learn How to Navigate the Fast Food Maze
Listen to Dr. Steven Aldana, Professor of LIfestyle Medicine at Brigham Young University in Provo, Utah, and a leading national expert on healthy living, explain why fast food is so popular and how the food industry works to get us to buy as much of it as possible and why most fast food is unhealthy.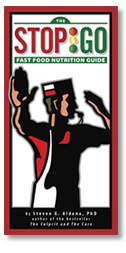 Download your FREE copy of Dr. Aldana's The Stop & Go Fast Food Nutrition Guide
Categories: Diet & Nutrition, Health & Wellness, Lifestyle Change, My Favorite Posts, Weight Loss