September 13th, 2010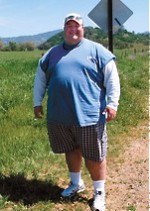 Gene Gomez of San Luis Obispo could be an inspiration to many locals seeking to shed a few pounds.
Before moving to the Central Coast four years ago, he had reached a peak weight of 525 pounds.
Through regular exercise and monitoring his diet, the Kennedy Club Fitness front-desk clerk has lost more than 300 pounds and now weighs 210 pounds.
He recently completed the San Luis Obispo Triathlon in 2 hours, 16 minutes and 3 seconds. The event included a 15-mile bike ride, three-mile run and half-mile swim.
Now much lighter on his feet, Gomez says he's a happier, more energetic person.
"There's no real secret to it," Gomez said. "I exercise daily and watch what I eat."
Gomez recalls weighing 250 pounds in his football days at Merced High School. His weight ballooned in adulthood, and he hovered in the 300s in his 20s and 400s in his 30s.
Gomez's weight gain worsened when he fell into depression after a divorce, along with a work-related injury in 2002 while he was an auto parts deliveryman in the Bay Area.
He recalls how he'd dread public seating areas because of his obesity, fearing chairs would collapse if they weren't sturdy enough to hold him. And flying in an airplane was out of the question because he was too big.
In 2006, he moved to San Luis Obispo from Hayward with his second wife, Liz Gomez, and noticed the stares of people walking by.
"Everybody seemed so healthy here," Gene Gomez said. "In the Bay Area, people just didn't seem to care as much, and I blended in more. Here, I stood out."
Gomez's doctor warned him to change his habits or risk serious health consequences.
He already suffered from sleep apnea, Type 2 diabetes, high cholesterol and high blood pressure. He was taking oral medication for his diabetes.
He joined the Weight Watchers program in 2008 with his wife, who also sought to shed pounds. The program includes weekly classes and a point system that calculates the recommended daily  health values of food.
Liz Gomez — the local branch manager of the legal support services firm First Legal — also has lost weight, dropping 100 pounds to 169.
Gene Gomez initially exercised by swimming and walking around town, gradually increasing his distances. And then while going through the Weight Watchers program, he started frequenting Kennedy on Tank Farm Road in 2008.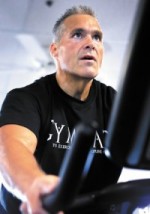 Gym officials decided to hire him at the front desk, and Gomez's story has become an inspiration to many of the members.
"He really encourages people with their programs or goals," said General Manager Brett Weaver. "We have so much to offer here, and he helps them take advantage."
The transition out of obesity has improved Gomez's health and boosted his spirits, according to his wife.
"We've encouraged each other," Liz Gomez said. "And I think people really like talking to Gene because he's a real person who has been there and accomplished a lot to get to where he is now."
By Nick Wilson
San Luis Obispo.com / The Tribune
Hear Gene tell you his story and see his results for yourself…
Download your FREE copy of my eBook; The 5 Tenets of Permanent Weight Loss
Categories: Diet & Nutrition, Exercise, Fitness, Health & Wellness, Lifestyle Change, Motivation, Success Stories, Weight Loss