September 3rd, 2010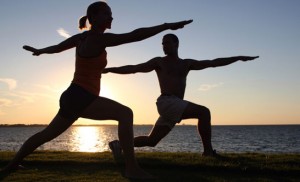 Over the last couple of years, and with my encouragement, many of my clients have begun to incorporate yoga into their fitness routines. Yoga has become an important part and a wonderful complement to their over-all health and wellness programs.
Many of them began practicing yoga as a way to maintain their flexibility (and supplement the stretching routines we do together during our sessions), help them manage everyday aches and pains, pain from chronic conditions, and the effects of aging. As well as a way of combating stress and its negative effects, and as a very effective way to help them relax, become more mind & body aware, and improve concentration and focus.
If you've ever thought about trying yoga, would like to know more about yoga, its benefits and philosophy…
Now may be the perfect time - September is National Yoga Month.
To learn more, Visit: www.yogamonth.org
Yoga Articles from the Himalayan Institute:
Or, view these wonderful FREE yoga videos from Planet Yoga
Download your FREE copy of my eBook: The 5 Tenets of Permanent Weight Loss
Categories: Exercise, Health & Wellness, Pain Management, Stress Management