June 30th, 2010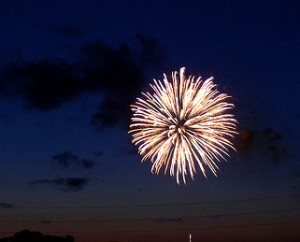 Happy 4 of July!
Originally published in 2008, this story about how some of our founding fathers and some very important Americans kept themselves "healthy, wealthy and wise" embodies the Motivated And Fit ideal of incorporating healthy lifestyle behaviors into your daily life in order to live a long, successful, and fulfilling life.
Did you know that Benjamin Franklin loved to swim, Thomas Jefferson was a devoted walker and George Washington got a kick out of playing ball with his soldiers during the Revolutionary War?
As we get ready to celebrate Independence Day, it's good to remember that building and fighting for this independent democracy required a lot of stamina. Luckily, for us, many of the men and women who helped shape our country had the wisdom to stay healthy and fit. Yes, although the average lifespan was 35 years in the 1700s and 40 in the 1800s, George Washington lived to 67; Thomas Jefferson to 83; Benjamin Franklin to 84; Susan B. Anthony, an avid cyclist who fought for women's right to vote, to 86; and Victoria Woodhull, a devoted horseback rider who was the first woman to try to run for president, to 89.
Here's how they kept in shape.
Benjamin Franklin (1706-1790)

The only Founding Father in the Swimming Hall of Fame, Benjamin Franklin not only taught himself to swim, he also invented flippers to help propel him in the water. He also was careful about what he ate, opting for water rather than beer and a vegetarian diet rather than meat.
Actually, we're lucky that Franklin's sense of patriotism was stronger than his love of swimming. At one point, when Franklin was working in London, a fellow named Sir William Wyndham asked Franklin to give his sons lessons after hearing widely discussed tales of Franklin stripping and leaping into the river, swimming, as Franklin would recount, "from near Chelsea to Blackfryars, performing on the way many Feats of Activity both upon and under Water."
And Franklin was tempted.
"I thought it likely, that if I were to remain in England and open a Swimming School, I might get a good Deal of Money," Franklin wrote later. "And it struck me so strongly, that had the Overture been sooner made me, probably I should not so soon have returned to America."
The American Revolution might have turned out so differently – if only the British knew!
Thomas Jefferson (1743-1826)

The third president of the United States and principal author of the Declaration of Independence believed that a strong body led to a strong mind. To keep his body strong, Jefferson walked his Monticello estate daily and rode his horse until after his 83rd birthday. And certainly there's no doubt that he had a strong mind. An inventor, architect, archaeologist, paleontologist, horticulturist and author, his accomplishments inspired President John F. Kennedy to welcome 49 Nobel Prize winners to the White House in 1962 by saying, "I think this is the most extraordinary collection of talent and of human knowledge that has ever been gathered together at the White House – with the possible exception of when Thomas Jefferson dined alone."
In a 1785 letter of advice to a young man, Peter Carr, President Jefferson wrote: "Walking is the best possible exercise … There is no habit you will value so much as that of walking far without fatigue. I would advise you to take your exercise in the afternoon: not because it is the best time for exercise, for certainly it is not; but because it is the best time to spare from your studies; and habit will soon reconcile it to health, and render it nearly as useful as if you gave to that the more precious hours of the day. A little walk of half an hour, in the morning, when you first rise, is advisable also."
George Washington (1732-1799)

Yes, we know, the story of George Washington chopping down the cherry tree is probably not true, but the father of our country had other ways to exercise.
"He was by far and away the most robust, the most athletic, the most outdoorsy, the most adventurous, of all the Founding Fathers," writes James C. Rees, executive director of Mount Vernon Estate and Gardens in Virginia.
As a 19-year-old surveyor of land, Washington did a lot of walking. And he was really into playing ball and encouraged his soldiers to play often.
A secretary to the French legation wrote on observing then-Gen. Washington at Fishkill in September 1779:
"Today he sometimes throws and catches a ball for whole hours with his aides-de-camp."
Wonder if he would have been a fan of today's Washington Nationals? Or for that matter, the Washington Senators, who moved here to become the Texas Rangers in 1972?
Susan B. Anthony (1820-1906)

As a woman who fought for the rights of women, Susan B. Anthony saw bicycling as part of the fight for a woman's right to vote – something that wouldn't be achieved until the 19th Amendment was passed, after her death, on Aug. 26, 1920.
For Anthony, bicycling, which came of age in the 1890s, was all about empowerment. Bicycling freed a woman from depending on a man to get around, gave a woman a chance to compete against a man in a sport and encouraged a liberating change in women's clothing. After all, a woman could wear a dress to ride sidesaddle on a horse; on a bicycle, however, corsets, long, heavy skirts and high-heeled, narrow-toed boots and shoes just didn't cut it. That led to the evolution of trouser-like bloomers that were conducive to other forms of exercise and fitness for women as well.
"Let me tell you what I think of bicycling," Anthony wrote. "I think it has done more to emancipate women than anything else in the world. It gives women a feeling of freedom and self-reliance. I stand and rejoice every time I see a woman ride by on a wheel … the picture of free, untrammeled womanhood."
Victoria Woodhull (1838-1927)

Hillary Rodham Clinton may have gotten more votes than any other woman in her campaign for the Democratic primary nomination for president. But she is not the first woman to try to run.
Victoria Woodhull went up against Ulysses S. Grant and newspaperman Horace Greeley in 1872, putting freed-slave-turned-author and leader Frederick Douglass on the ballot as her vice presidential nominee. She didn't come close to winning (indeed, some historians question whether her effort could legally be called a run, and Douglass never even acknowledged his spot on the ticket). But she did become the first woman to own a Wall Street investment firm, found her own newspaper and speak before Congress, demanding that woman be given the right to vote – a right that no doubt would have helped her in that run for the presidency.
It should be noted that Susan B. Anthony, who was not a fan of Woodhull, cast her vote for Grant (which did not count because the 19th amendment had not yet passed).
Woodhull credited her good health to vigorous exercise and a healthy diet and advised other women to do the same. She rode on horseback and walked at least three miles a day. She also advocated vegetarianism, eating fresh fruit and drinking at least two pints of water daily.
Abraham Lincoln (1809-1865)

Everyone knows the author of the Emancipation Proclamation and the Gettysburg Address could write. But did you know he could wrestle?
At 21 and a thin and muscular 6-foot-4 (which makes him the tallest president), Lincoln was considered the wrestling champion of his county. Among his wins was one against a famous wrestler of the time named Daniel Needman. Another was against the much-feared Jack Armstrong. By age 29, people were referring to him as possibly the second-best wrestler in southern Illinois.
He was thought to have developed his strength from chopping down trees with an ax from the time he was a small boy. And it has been written that he got more of a kick out of the admiration he received from the boys in the neighborhood for his physical feats, such as lifting a box of stones weighing nearly 1,000 pounds, than for his literary or debating successes.
But while he went on to achieve more fame as our 16th president than as a wrestler, he never lost his love of sports. He was considered pretty sharp at billiards, he walked, rode his horse and played handball while he lived in the White House.
Average American lifespan over the years
1776: 35 years
1800: 40 years
1900: 47 years
2000: 77 years
2006: 78 years
By Nancy Churnin
The Dallas Morning News
Darlean Spangenberger, Dallas Morning News researcher also contributed to this story.
Download your FREE Copy of my eBook: The 5 Tenets of Permanent Weight Loss
Categories: Health & Wellness, Motivation, Success Stories